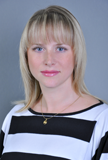 MASLIY YULIYA SERGIIVNA
(22.03.1979, Kharkiv) – Candidate of Pharmaceutical Sciences (2008), assistant professor (2007).
She graduated from the National Academy of Pharmacy of Ukraine in the speciality "Industrial Pharmacy" (2001), completed a post-graduate course (2007), defended her thesis "Development of the composition and technology of dental medicinal disks for anesthesia of dental tissues" (the scientific supervisor is prof. Yegorov I.A.) (2008).
She worked as a senior laboratory assistant (2002 – 2003), teaching assistant (2007); was the secretary of the Technological Commission at the NUPh (2003).
Awards: Presidential Scholarship (2002 – 2003).
Her research is devoted to creation of the dental medicine with the multiple action in the form of medicinal disks.
The scientific achievements: the co-author of one new drug; the author and co-author of about 40 scientific, educational and methodic papers, including 3 patents, 8 manuals.
The main published works: