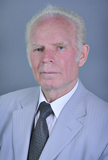 Doctor of Pharmacy, professor
(05.01.1943, Maloe Selishche, Rivne region) – a scientist, teacher, Doctor of Pharmacy (1985), professor (1987), academician of the Academy of Sciences of Technological Cybernetics of Ukraine (1994).
He graduated from the Kharkov Pharmaceutical Institute (1970).
He worked as a teaching assistant (1970 – 1980), vice dean and dean of the International Students faculty (concurrently) (1977 – 1982), associate professor of the Department of Drug Technology (1980 – 1985), head of the Department of Organization and Economy of Pharmacy (1985 – 2004), head of the Department of Industrial Technology of Drugs (2004 – 2009), professor of this Department (since 2009).
He was a chairman of the jury of student competitions in the specialty "Pharmacy" (since 1986), Scientific Secretary of the Specialized Council on award of the PhD degree (1987 – 1997, since 2007), chairman of the Problem Commission of NUPh with GDR (1988 – 2008).
Awards: His Research and Development works awarded prizes of the Ministry of Public Health of the USSR and MOSRSR (1986, 1988), medals of the Exhibition of Economic Achievements of the USSR and Ukraine (1986, 1987, 1988).
His research is devoted to creation of drugs with the multiple action for the local treatment of wounds and burns.
He supervised 2 Doctors and 11 Candidates of Sciences.
The scientific achievements: the co-author of 10 new drugs, of which 4 ("Levomecol", "Levocine", Dioxycol, 30% solution of PEO-400) have been introduced in production and medical practice; methods for prevention and treatment of radiation injuries of soft tissues (included in the list of priority measures at EU emergencies – Oxford – Kiev, 1995); research methods of the osmotic activity of drugs. He is the author of more than 200 scientific papers, 5 patents, 8 patents.