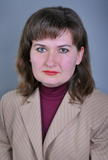 Doctor of Pharmacy, Associate Professor
(06.02.1974, Odessa) – Doctor of Pharmacy (2015), Associate Professor (2004).
She graduated with honors from the Ukrainian Academy of Pharmacy, Faculty of "Industrial Pharmacy" (1997).
She worked as an assistant (2000 – 2003), a leading specialist of the Office of Research and Inventions concurrently (2003 – 2008), associate professor of the Department of Industrial Technology of Drugs (since 2004). She is a head teacher of the Department.
Her research is devoted to creation of the drug in the form of capsules with diclofenac sodium sustained release.
She supervises graduation and Master's research papers.
The scientific achievements: the co-author of the drug "Diclofenac – retard" developed that received the registration of the Ministry of Public Health of Ukraine R.01.03./05698 (the order No. 3 from 09/01/03) and it is approved for medical use and industrial production in "Zdorovye" (Health) Pharmaceutical company.
The topic of her thesis was "Development of the composition and technology of capsules with diclofenac sodium of sustained release" (2001). The scientific supervisor is prof. Chueshov V.I.
The topic of the Doctor's thesis is "The theoretical and experimental substituation of the rational use of auxiliary substances to create solid dosage forms with the given biopharmaceutical properties", the scientific supervisor is prof. Dmytriyevsky D.I.